1
AI-Driven Investigation & Triage At Speed & Scale
2
Machine Learning Algorithms Learn on the Job, Combined with Expert Analysts to Create Bespoke Service
3
Instant Network Visibility into Existing Blind Spots
4
Comprehensive Coverage of Your Entire Digital Business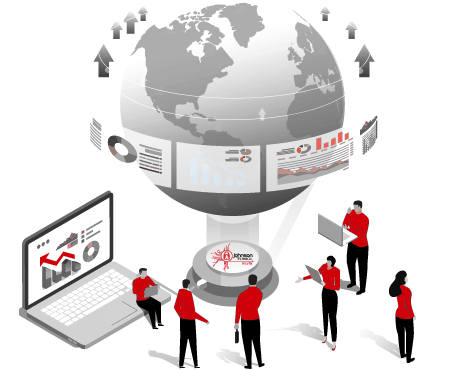 By monitoring all raw network traffic, we gain 100% visibility
We can then can learn what is normal for your specific network. This allows swift detection of threats that stand out as anomalous from this understanding. There is no configuration of pre-set conditions, rules of signatures and it does not rely on large training data sets.
The Challenge
Most traditional security protocols do not allow for real time detection 24/7. The majority of organisations do not monitor their normal patterns or behaviours of their network. This makes it harder to spot malicious or anomalous activity that differentiates from the normal patterns.
The Solution
Unlike traditional security, JTSecurity provide real-time detection 27/4. Every phase of an ongoing cyber attack is visualised. By leveraging our network detection platform, anomalies are monitored at the normal pattern of behaviour on your specific network can be identified.
–
JTSecurity is a Managed Security Service Provider That Defends Systems 24/7
–
Data Agnostic
Threat detection across your entire estate

Covering everything from Laptops, Desktops, Phones, Servers

IoT, BYOD and Industrial/Operational Control Systems
Unparalleled Threat Visibility
Look for anomalies, in the normal pattern of behaviour for your unique network

Detect all types of threats

Visualize everything from malware to data exfiltration
Powerful Technology
24/7 Transparent & Audible Collaboration

Ticketing & Customer Integration

SLA Management
Smart Automation & Rapid Response
Central support for automation of repetitive processes

Increased accuracy

Shortened recovery time for remediation
Zero Complexity, Low Maintenance
We supplement your team and maintain systems

Keep things simple for you

Straightforward to deploy and easy to integrate
Access To Security Operations Centre
Enriched Threat Intelligence

Weekly and Monthly Reports

Speed Up Response
Download our NDR Datasheet
Tapping into the network and analysing real-time network traffic to form a complex understanding of what is 'normal' for your environment as it evolves.